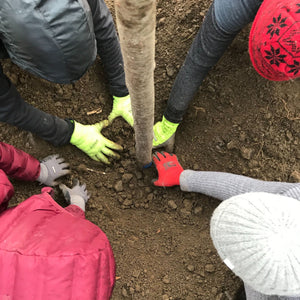 Making an impact
Corporate social responsibility
The world is growing and so are we. We're pledging to do better through sustainable and social initiatives. Collecting donations for nonprofits like Familijeunes and planting trees in low-income neighbourhoods with Soverdi are just some of the ways in which we're pushing for change.
We are all too aware that maintaining the status quo and doing business as we used to isn't working anymore. While our solutions are not yet perfect, we are continually striving to improve and wish to do so in complete transparency and to avoid making any misleading greenwashing claims. Change is essential, and we want to do our part to produce the most sustainable styles available, now and in the future.
Every year, members of the BonLook team participate in the Défi Vélo Parkinson Québec, an initiative that combines cycling, Parkinson awareness and fundraising. A three-in-one we can definitely get behind! Each participant can choose a challenge that suits their level, and every year thousands of dollars are raised to put towards a great cause. We're proud to follow our employees' progress every time!